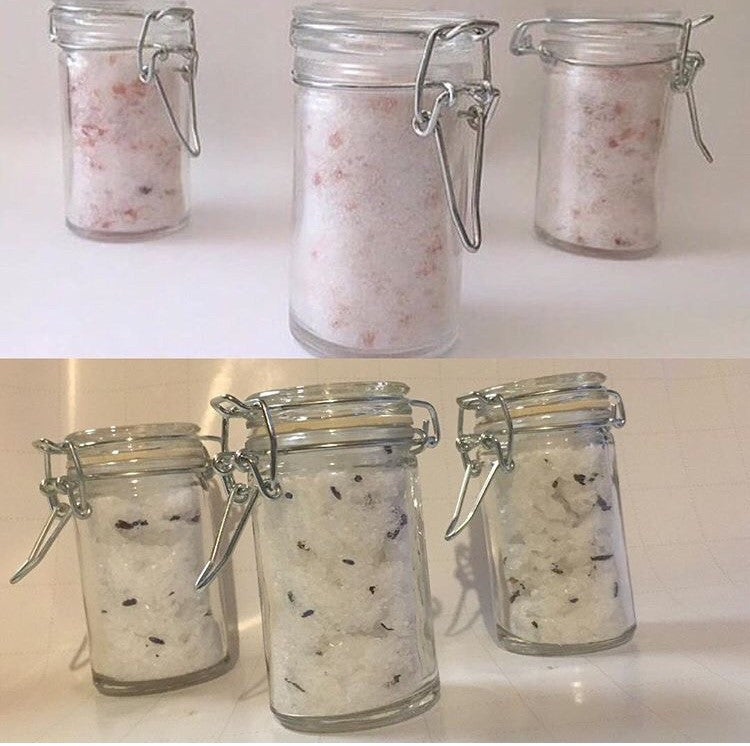 Spa Salt Favors - Custom Bath Salt Favors for Weddings, Showers, Parties and More!
We are pleased to finally be able to offer our oh so popular spa salts as favors for your special event!

Your choice of rose or lavender spa salts are handmade and packaged in 3 ounce glass jars with hinged lids. We work with you to customize your label to include things such as a special date, names and more. These favors are sure to be a hit with your guests and leave a lasting impression!

Our rose spa salts include a blend of large grain Pink Himalayan, solar sea salt and Epsom salt, creating a gorgeous blend of white and amber grains. Scented with a phthalate-free rose fragrance.

Our lavender spa salts a blend of our solar sea salt and Epsom salt with dried lavender buds and 100% pure therapeutic grade lavender essential oil.

For custom labels, we will require additional processing time to complete your order (approximately 2-3 weeks). For a standard label, we can have your order out within 1 week.