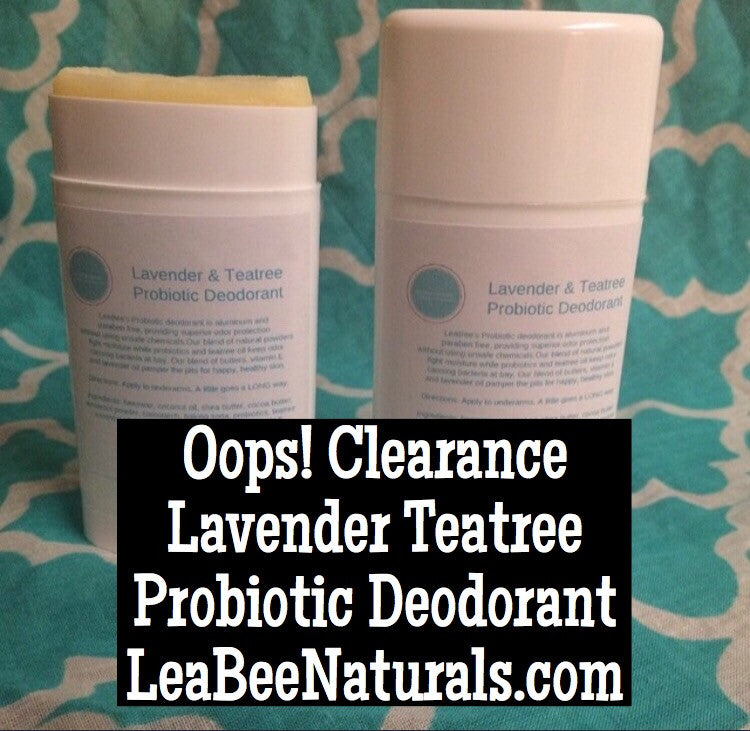 Oops! Clearance Lavender TeaTree Probiotic Deodorant
Everyone makes mistakes, LeaBee included! Given  that all of our products are handmade, sometimes we have whoopsie daisy moments! Let our boo boos help you score deep savings on your favorite products!

Note: Our Oops! Products are a discounted product due to, but not limited to, stained/smeared label, broken up product, outdated/old labels, old or damaged packaging, different containers, soaps cut a bit too small for our standards, etc. that do not jeopardize the quality of the product. Please note that all Oops! products are final sales, with no exchanges or returns accepted. Our current Oops! Deodorants are due to us running out of deodorant containers so you get special savings on our backup conntainers - our 2oz round twist up tubes (pictured). Same size, same way to use but you save!
LeaBee presents our Natural Probiotic deodorant!

With studies coming out left and right about the dangers of chemicals in commercial personal care products, it's so important to know what you're putting on your most delicate parts. Commercial deodorants contain aluminum and parabens, which have been linked to Alzheimer's and cancer.

But not our deodorant. Chock-full of skin loving butters, vitamin E and coconut oil, your pits will be pampered while a blend of natural powders keeps you dry. We've added teatree oil, lavender and natural probiotics to combat odor-producing bacteria. The scent is light and perfect for both men and women. Castor oil promotes healthy lymphnode function while giving this deodorant an easy glide. Trust - a little goes a LONG way!

People who switch to our natural deodorant report a lot less sweat production once their bodies have adjusted!