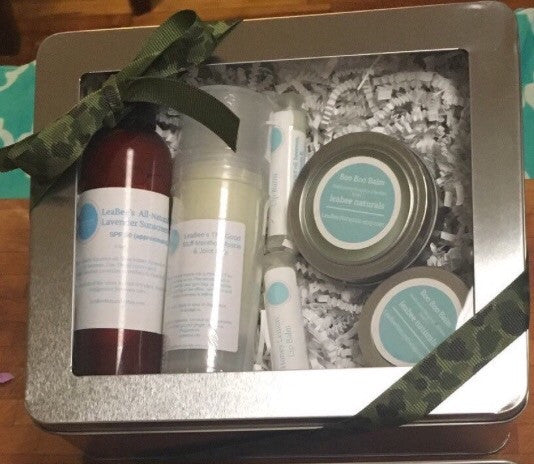 Military Care Package for Deployment or Boot Camp
Our armed forces are near and dear to LeaBee's heart. They're so hardworking and selfless, doing what many of us are not brave enough to do. Whether it be deployment or boot camp, our loved ones need our support and the supplies to keep themselves on their A game.
LeaBee has carefully compiled this care package after consulting an active duty service member with two tours under his belt, preparing for a third. These are his essentials:
-The Good Stuff Muscle Rub
-Small Boo Boo Balm - an all purpose healing salve with hand sanitizing properties
-LeaBee's Lavender Sunscreen
-Breathe Easy Vapor Rub
-LeaBee Lip Balm (2 count)
These items are carefully packed in a sturdy decorative tin decked out with camo ribbon with your personal message enclosed. The Care Package is then safely nestled in a shipping box with heavy duty packing material to ensure its safe arrival.
Please make sure to send us your personalized message to include. If you want to include any additional items, we are more than happy to accommodate, whether it be an additional LeaBee product or tissues, snacks, etc. Please message prior to making your order for special order pricing.
Our troops deserve the best, along with our unlimited gratitude for their service. God bless America.
***if you're active duty and ordering this for yourself or a colleague, PLEASE message us first, we would like to make you a special offer***