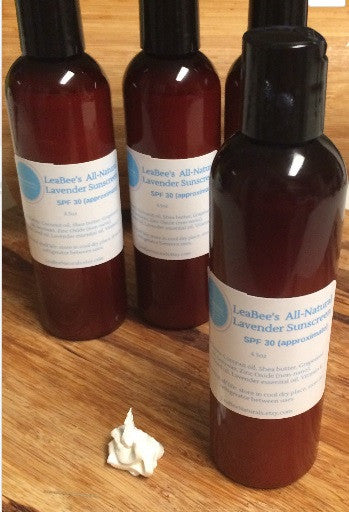 LeaBee's All Natural Lavender Sunscreen
Summer is here! Enjoy all that sunshine and outdoor time without fear of skin damage and sunburns!
LeaBee's All Natural Lavender Sunscreen provides all the protection you need without all of the harsh chemicals and smells. And INSANE moisture too!
We've combined a blend of ingredients you can ACTUALLY pronounce: non-nano zinc oxide (this is the safe stuff), coconut oil, Shea butter, grapeseed oil, carrot seed and lavender essential oils and the power of vitamin E to create protection for the whole family - it's safe for the babies too!
SPF 30 (approximate - by law I can't give an exact number), as each ingredient offers additional SPF of its own.
Our sunscreen also soothes diaper rash and poison ivy!
The beeswax does give some waterproofing to this sunscreen, however during swimming, we recommend reapplication every hour or so.
Note: to enjoy as long as possible, keep out of direct sun when not using, and you can store in the fridge between uses. All Natural products do have a shorter shelf life than their commercial counterparts as we stay away from those gross chemical preservatives.
Each bottle is 4.5oz by weight.
Check out our other natural products at LeaBeeNaturals.com