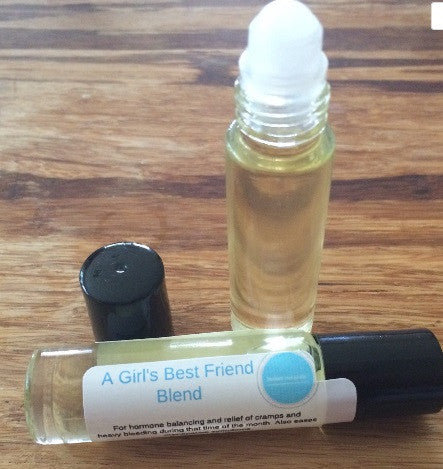 LeaBee's a Girl's Best Friend Hormone & Pain Relief Gel - vegan
Ladies. I know your pain. It's an uphill climb when it comes to being us, starting at puberty.
LeaBee's created a Girl's Best Friend - blended with all the essential oils you need to keep it all together.  From PMS, to balancing hormones after pregnancy, all the way through menopause, this blend will do the job.
For menstrual cramps and heavy bleeding: apply to lower abdomen and massage in. Follow with a warm compress.
For hormone balancing/PMS/Menopause relief: apply to reflex points of feet, to wrists, to any pressure point.
For a quick mood boost: apply to palms or wrists and inhale.
The convenient size (1/3 oz) is convenient for purses and will make it through airport security in your carryon. Tamper proof seal ensures safety and freshness.
Includes the following essential oils: geranium, clary sage, lavender, birch, frankincense, peppermint blended into grapeseed oil.
Consult a doctor before using essential oils if breastfeeding or pregnant.
Check out our other goodies! LeaBeeNaturals.com
Instagram: LeaBeeNaturals
Facebook.com/LeaBeeNaturals