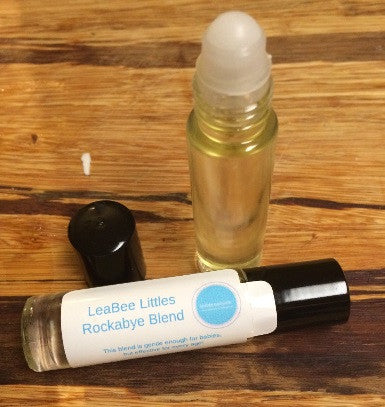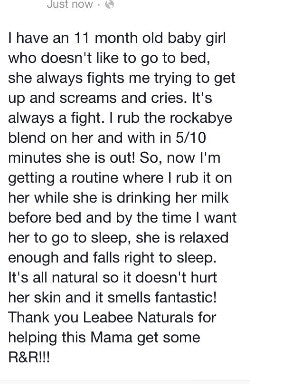 LeaBee Littles Rockabye Blend for Sleep, Calming & Teething - vegan!
Introducing LeaBee Littles - our line of  all natural products gentle enough for little ones, but also great to use for the whole family!
Our Rockabye blend promotes relaxation and a good night's sleep - perfect for fussy babies! The addition of chamomile enhances and helps with teething!
One customer reports that her infant is now sleeping 5-6 hours per night when they were lucky to see 3.5 hours prior to using our Rockabye blend!
Another says her daughter fusses and fights bedtime like nobody's business! She applies Rockabye during her 11 month old's bedtime cup of milk and she falls asleep in 5-10 minutes.
A gentle lavender & chamomile blend in a convenient roller bottle goes on topically for quick relief! The convenient size (1/3 oz) is convenient for purses, diaper bags and will make it through airport security in your carryon. Tamper proof seal ensures safety and freshness.
Directions: Shake well, apply where desired and massage in. Recommended application spots are soles of feet, wrists, nape of neck and along the spine.
For teething: apply behind ears and along the jaw line.
For fevers: apply on soles of feet, behind ears, on the back and forehead.
Ingredients: lavender essential oil, Roman chamomile essential oil, jojoba oil, grapeseed oil
Consult a doctor before using essential oils if breastfeeding or pregnant.
Check out our other all natural products! LeaBeeNatur.com